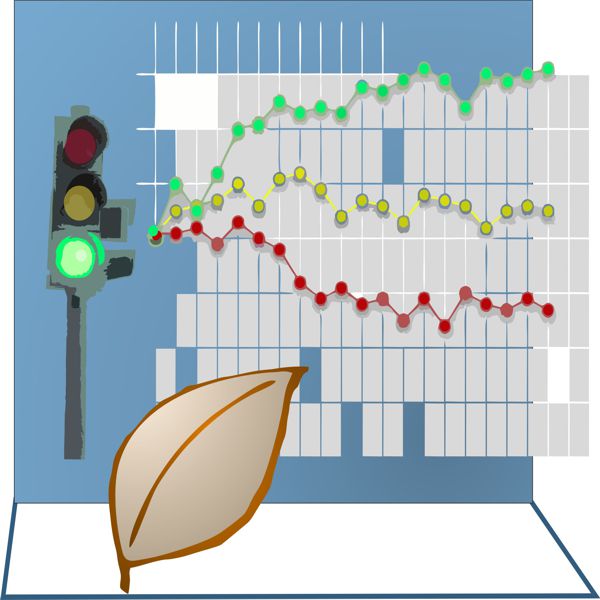 Solutions
Since inno.tob was established in early 2001, we delivered dozens of successful projects for customers in the tobacco industry. Please find some examples below – reflecting the breadth and depth of services provided.
New factory project
Inno.tob engineers joined the factory team in the early planning stages for new factory premises. Initially, a number of different options for the location of Primary and Secondary production equipment and warehouses were explored. The best option was selected as a reference for suppliers, still allowing for later modifications as required.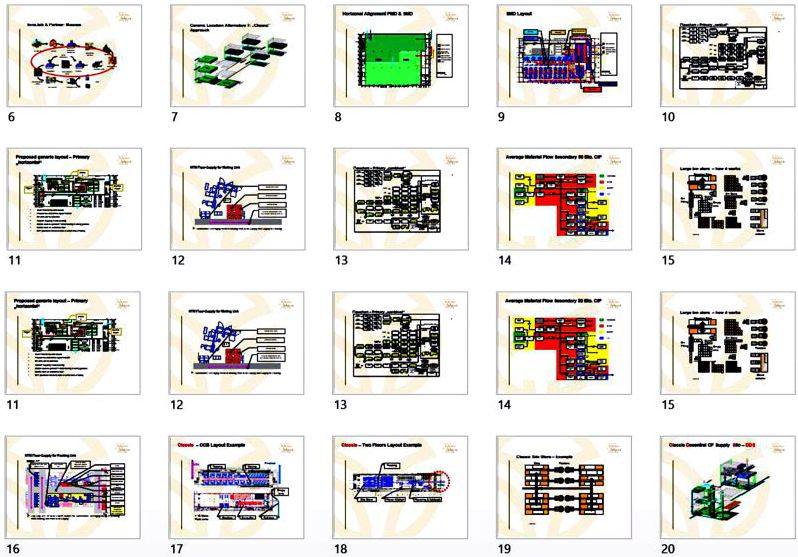 Figure: Excerpt from a layout study. This type of work helps to identify the most efficient layout of equipment in terms of logistic transport needs, utility availability, low energy consumption and smart equipment set-up.
Contracts were continued over the full project time with tasks including
Project management
Evaluation of equipment and commissioning specifications
Investigation of bids for production equipment and utilities
Contract management
Supervision of the OEMs construction process
Commissioning and product qualification management
Process training
Management of defect rectification procedures with suppliers
The plant was commissioned within the projected timeline and is now operating to the customer's full satisfaction.
Re-engineering
The challenge: The customer's plant, which had been sourced from a large number of OEMs, was equipped with automation technology which over time had become obsolete. The documentation relevant to the processes was similarly outdated. There was a need to replace the old computer control system - with the help of an automation provider - with a new and state-of-the-art system which could be upgraded to higher automation levels. Additionally, the idea was to use this unique opportunity to improve core processes and address known weaknesses.
The solution: Following a comprehensive inspection of the plant, a number of potential improvements were identified and discussed with the customer's technical staff. Inno.tob engineers then drafted a new functional specification for use as an input for hard- and software design. This document also contained several options for improving processes, also leaving scope for this to be done at a later stage. The new line, after finishing new automation implementation, meets new CEIIa safety requirements and is now running at its best ever performance.
Quality maintenance
KPQM (Key Process Quality Maintenance) is a structured service, available either as a stand-alone service or on a periodic basis, to maintain key Primary processes (DCC&C, dryers, expansion units etc.) at the highest possible process quality level.
The challenge: The customer was running a number of Burley tobacco processing lines equipped with partially old technology from different OEMs. There were complaints about strong fluctuations in results and quality gaps. The reasons were not precisely known at the start of the project.
The solution: Within five months, the customer's Burley processing lines were overhauled to run within the desired process specifications, delivering huge benefits in terms of both quality improvement and waste reduction. The project was followed up by the signing of a contract for periodic update checks on machinery.

Figure: Measured vertical air flow profile of a Burley band dryer, three up-zones followed by a down-zone. Dark brown areas reflect regions of low flow, while light blue areas show regions of high air flow. The target of optimization is a consistent air flow across the full band width and length.
Waste saving
The challenge: The customer was unhappy about the amount of tobacco losses over the full production chain. Several attempts had been made in the past to minimise overall waste, but these did not have the desired effect. Moreover, there were complaints about deficiencies in the quality of a number of premium products which were suspected to be caused or impacted by unknown process weaknesses.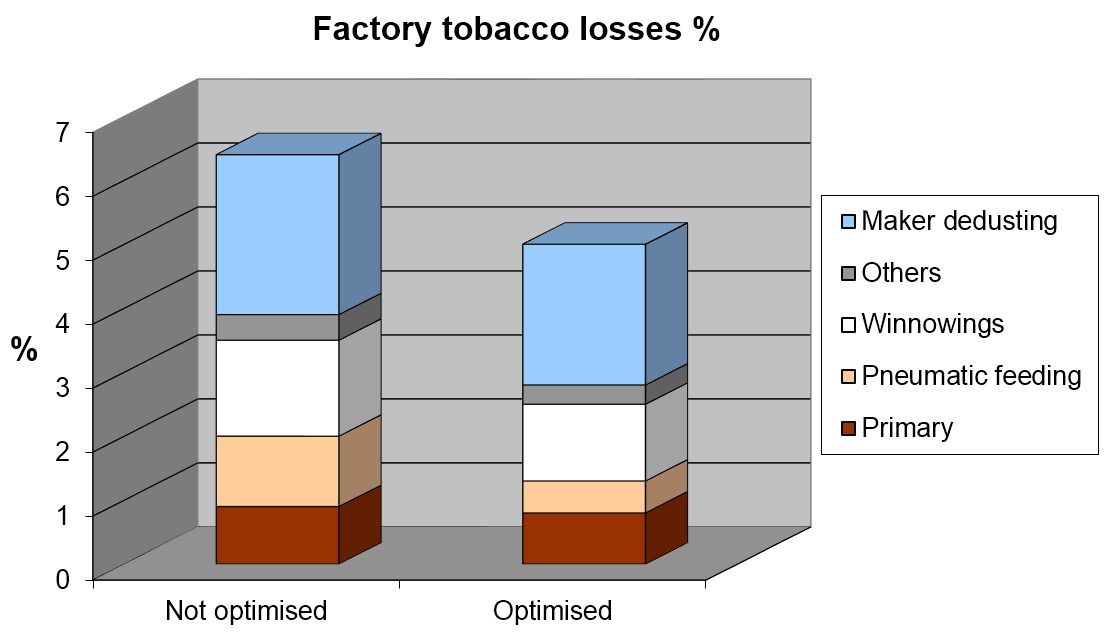 Figure: Graph comparing volumes before and after optimization and showing direct savings of more than 1% of the raw product. This was achieved by a custom-built set of Primary and Secondary measures over a period of 7 months. Savings delivering benefits above USD 1m p.a. have been proven stable.
The solution: Each single step over the full production chain, from the GLT plant up to the finished product, was carefully analysed by inno.tob engineers. On the basis of this analysis, three major focus areas were defined, reviewed and systematically optimized. As a result, the overall product waste was effectively reduced while the quality of the end products was significantly improved in terms of ends fall out and rod weight standard deviation. Operators and technicians were trained to ensure that the benefits would be maintained even in case of fluctuations in raw material pattern.
Production efficiency
The challenge: To reduce production costs and better manage lower production volumes, the customer was planning to run with fewer shifts in Primary and less machinery in Secondary. However, this turned out to be more difficult than expected because of equipment constraints, unexpected stoppages in Primary and a low uptime in Secondary. The customer contracted inno.tob to assist in the improvement process.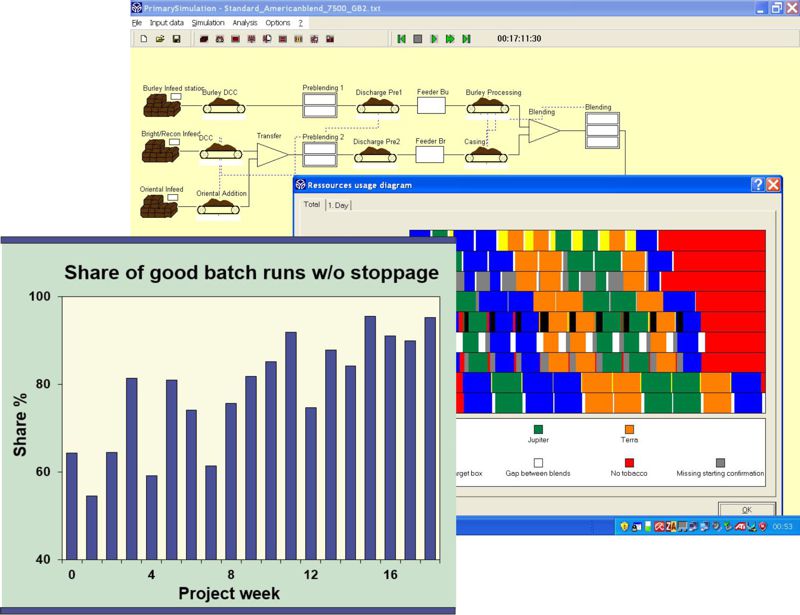 Figure: One major bottleneck in Primary was the number of unexpected line stops. The graph shows the improvements, measured as a percentage of "smooth" batch runs over the project period.
The solution: In close cooperation with the customer's staff, a masterplan to achieve the goals was defined. A tailor-made strategy was put in place to improve the stoppage level in SMD, using OEE and Continuous Improvement tools. This included an observation/root causing/prioritising/fault elimination cycle and enabled an immediate OEE improvement of 16% at the point of the machinery involved. In PMD a dedicated bottleneck analysis using simulation and line optimization was carried out to identify the loopholes. As a result, the production time was reduced by 12%. The customer's goals were achieved by the end of the specified time limit.
MES implementation
The challenge: As part of a factory conversion project, the challenge was to define requirements for a SCADA and MES (Manufacturing Execution System) including full tracking & tracing capabilities – as a basis for the hardware and software needed by the customer.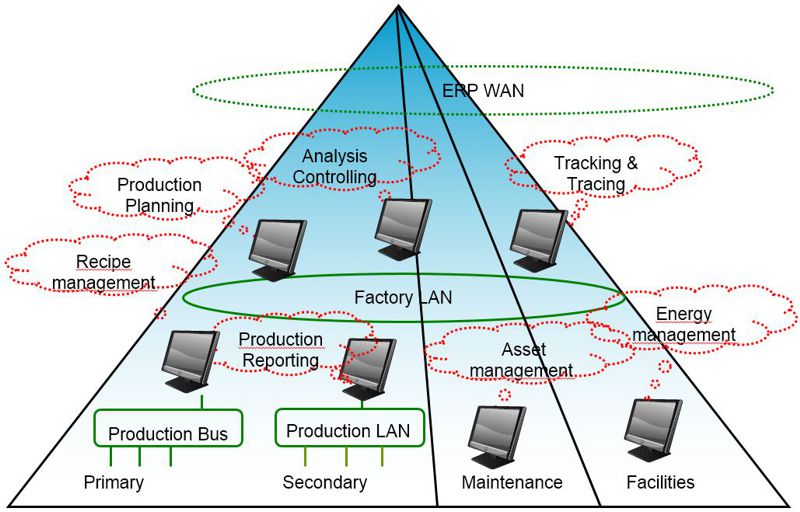 Figure: The automation & communication architecture needs to be well adapted to the customer's needs.
The solution: Under the direction of inno.tob, an Action Team was formed including future stakeholders from various departments (information services, project management, production areas, quality control). Based on existing and future demands, a state-of-the-art specification of the new system was drafted. The final requirements specification incorporated requirements from all departments involved and was a perfect basis for a tailor-made implementation.
Process training
The challenge: As a part of an internal Learning & Development programme, the customer (a 25 bn cigarette factory with Lamina, Stem and Burley lines) requested a one-week process training course at an advanced level for technical Primary staff. The production equipment was described as a mix of old and new equipment from different OEMs. Inno.tob were also asked to compile a list of components to be put on a priority list for future replacement.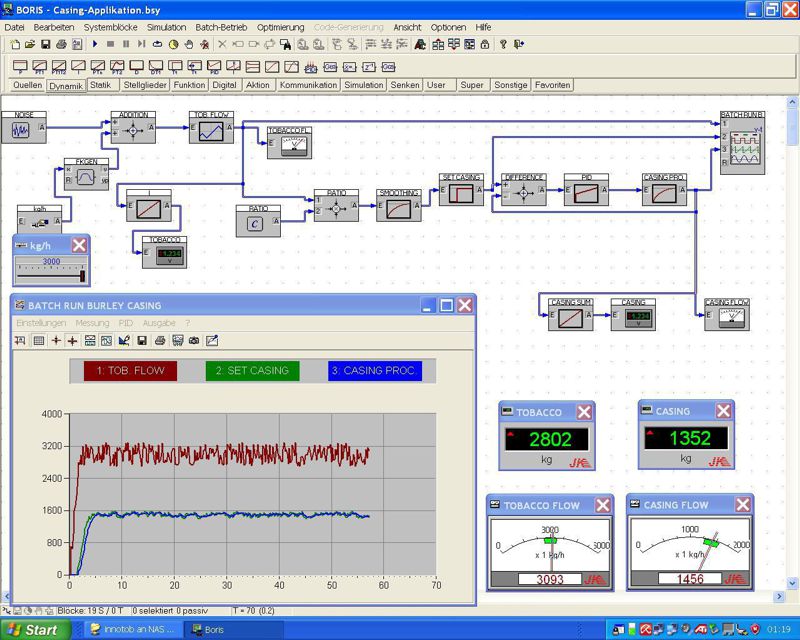 Figure: Complementing practical training at the shop floor, the training programme includes modules where typical scenarios (here: optimum setup of water flow to conditioning plant) are simulated to discuss routine challenges.
The solution: The training course was developed in coordination with the customer's management to ensure that it was focussed on the right learning outcomes. It was delivered at a time when the factory was operating at low production volume. The process training was divided into 5 modules (day shifts) and included both theoretical (processing targets, physical background, impact analysis) and practical sessions (process cleaning, parameter setup checks, visual product review). On the last day, participants were able to test their newly-acquired knowledge and skills in a self-assessment.